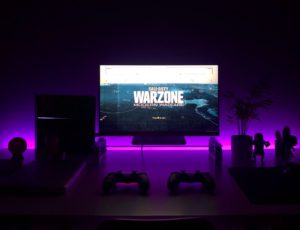 Even with a tight budget, getting a Smart UHD TV is not a farfetched dream anymore. Let me tell you why. With the 4K technologies becoming more and more available, their prices have dropped. So, if you're a gamer and buying a new TV, I don't see any reasons not to purchase the 4K one. Besides, gaming industries are releasing products targeting this technology. Tell me why you should not be future-ready?
Now, not all the cheap 4K TVs are gaming-friendly. If you don't do enough research there's a high chance you might end up with one that has heavy input latency. Or the input ports that don't support your favorite gaming console. Some of them have serious issues with the audio that can disturb you while gaming.
After much research, I have come up with the best budget 4K TV for gaming. All of them can kick up your gaming performance with brilliant features. Let's get started.
Now Have a Quick OverView at all of My Top-Picked Products Down Below.
1. TCL 43S435 – Top-rated 4K TV for Gaming
TCL is known for making some of the best low-budget 4K TV for gaming. You will be getting this 43inch Smart LED TV at an unbeatable price point. For lifelike picture quality High Dynamic Range Technology HDR10, HLG has been used. So, details, crispness, and clarity are guaranteed that can give you an unmatched gaming experience.
However, for the QLED panel, you will have to spend some more cash and aim for their 5-Series or more. The motion performance is 120 CMI here which is pretty good for gaming.
The super minimalistic Roku interface has been used here. You will be able to run it at a 120Hz refresh rate which might not be the best but adequate to give you a pleasurable gaming experience.
2. VIZIO V405-H19 – Most Affordable 4K Gaming TV
This TV from VIZIO has been made keeping the gamers in mind because they have used V-Gaming Engine. This makes the latest Xbox One and PlayStation gameplay more responsive with Auto Game Mode. Moreover, the input lag will be low, the effective refresh rate is 120 Hz. As a result, it more fluid and responsiveness is guaranteed.
The Dolby Vision HDR brings vivid colors, clarity, and crispness. Thanks to the full array of local dimming, it has solid picture quality. At this unbelievably low price point, this smart TV seems too good to be true.
Like the previous one, it has got a built-in Chromecast too, so you will be able to stream anything from your phone or tablet. On top of that, to pair it with Apple gears it supports Apple AirPlay.
3. Hisense R6090G – Most Popular Low-cost 4K Smart TV
Another brand to deliver budget-friendly TVs without compromising the quality. Like the TCL model, this one has the minimalist but intuitive Roku interface. It's super easy to use as it has every recently watched content and connected devices in one place.
It has Dolby Vision HDR and HDR10 to pack solid colors and stunning details. The sound quality is also up to the mark as they have incorporated DTS Studio Sound for audio processing. To guarantee low picture lag the motion rate here is 120. Overall, this is one of the best UHD TV for PC gaming under budget which is highly popular among gamers.
4. LG 43UN7000PUB – Pristine Color, Light, and Detail
Coming from the widely renowned LG brand, you can't go wrong with this model. What makes this one stands out from the other inexpensive 4K TV for gaming is, it has an IPS display. So, while the other models I've reviewed have poor side angle view, you can view it from any angle you like without losing the clarity and color.
They've used a high-quality quad-core processor for ultimate picture performance. With unbelievably low input lag, you will be able to watch the player's action in almost real-time while playing games.
5. SANSUI 43-Inch – Preferable for a Wide Viewing Angle
This model brings an edgeless display along with a wide visual angle of 178°. So, brace yourself to get the most immersive visual experience. Also, the storage space is huge- 8GB and an extra 1GB for operation.
It has met the recent HDR standard with HDR10. It brings dramatic color contrast along with brighter brights and darker darks. Thanks to the DLED imaging technology, the backlight conveyed the entire screen uniformly.
Unlike the other gaming 4K TV under budget, it has a surprisingly low response time of 6.5ms. So, this can be the best budget 4K TV for gaming PS5 for fluid gameplay.
6. Caixun EC43S1UA – Good Picture Quality with Chromecast
Does your current smart TV get disconnected frequently from the Wi-Fi? You can upgrade to this model to get rid of that problem. It's incorporated with 2T2R smart antenna technology to minimize connection errors and optimize data transmission speed. So, a rapid and stable connection is guaranteed during streaming.
For superior picture performance, a high-quality ARM CA55 quad-core processor has been used. The high dynamic range will bring you a wide spectrum of colors and visual details even in the darkness. Also, I was impressed by the bezel-less design for which you can enjoy the maximum possible display.
7. Insignia NS-43DF710NA21 – Popular Gaming TV with HDR
With an intuitive interface, this TV is super easy to navigate. This one is the Fire TV Edition. So, all your recently watched content and connected devices will show up in one place, no need to go through additional steps to access them. It's powered by quad-core CPU or multi-core GPU to make your streaming experience seamless. On top of that, the 60fps refresh rate ensures less input lag and more fun gameplay.
If you want bleeding-edge display technology this is not the most suitable one for you because it becomes a bit muddy with the darker tones. And also let me tell you, it comes with only 4 GB storage capacity.
Why Should You Buy Low-Cost 4K TV For Gaming?
If you are going to have a TV upgrade, there is no reason not to purchase a 4K. With the advancing technology, it's becoming more available in the market and the price is dropping too. So, you can bag the best cheap 4K HDR TV for gaming without even breaking the bank.
With the HDR 10, HDR 10+ technology you are going to experience a noticeable visual improvement if your present gaming TV is FHD or HD. This even beats the SDR technology in the richness of colors and clarity.
The input lag plays a significant role in ensuring fluidity in gameplay. Getting a UHD can reduce the refresh rate and enhance the gaming experience like never before. A tight budget should not be an obstacle on the way to becoming a pro gamer. So, get yourself the best budget 4K smart TV for gaming.
How I Picked The Best Value 4k Tv For Gaming?
I have done extensive research about the UHD gaming TV with a reasonable price having all the necessary features for enhancing the gaming experience. Though the list for the search result was quite long you may wonder why I have reviewed only 5 of them.
It's pretty obvious in low-budget the premium perks of the UHD TV won't be available. But for the gamers, some features are crucial like less input lag and response time for smooth gameplay. Meeting the HDR standard was another criteria I was looking for the Best budget UHD gaming TV. This ensures crispness, better color details, and contrast. According to the customer ratings, all the 5 TVs I have reviewed passed all of these criteria with flying colors.
Apart from that, I considered quite a few factors too. For your convenience, I have described them below. So, you can rely on my choice and take any of them with full confidence.
How to Choose the Affordable 4K Gaming TV?
While choosing a TV for gaming there are certain criteria to look for even if you're trying to stay within your budget. Never compromise these criteria or else the TV will cause you a headache instead of level your gameplay up.
Input Lag
When it comes to gaming lower the input latency higher the responsiveness. Why?
This indicates the time delay in milliseconds between your game controller and the display. In this article, I have ensured every model I pick has got the lowest input lag. So, you can trust me on this.
Frame Rate
This indicates the number of frames the monitor is producing each second. So, a higher frame rate is kind of crucial for smooth gameplay. It allows you to cope up with the swift movement of the player. Along with a higher refresh rate you see more visual information which you completely missed out on a display having a lower hertz refresh rate.
VIZIO models run at 120Hz and also support 120Hz from externally connected devices. So, if your console requires that you know which one to go for!
HDMI Inputs
Now coming to the HDMI input ports. More ports mean you can connect a bunch of your favorite games. That being said, the version is also important because the higher the version more bandwidth it allows to pass through. Most of the UHD TVs have the 2.0 version to support HDR content.
However, personally, I think 2.1 is more future-proof because gaming industries are making products targeting it. For example, the latest Xbox Series X requires the 2.1 version. So, if you're owning or planning to buy that console, go for the VIZIO. Coming with a V-Gaming engine, it's the best low-cost 4K TV for gaming Xbox Series X.
Full-Array Direct Backlight
Another premium feature that all the high-range and mid-range models offer. Full array dimming produces deeper darks and better contrast. This certainly brings remarkable visual improvement to your gameplay. Those who don't like muddy darker tones on their display screen should try to increase their budget and go for the models that offer this feature.
LG, SANSUI, and VIZIO models offer you color uniformity across the screen along with brighter brights and darker darks.
Easy Navigation
Who wants a TV which has a complex interface, right? This is where the Roku TVs come into play. They have got a minimalist and intuitive interface that is easy to understand and use. The Hisense and TCL models have the Roku interface. Voice controls allow for a hands-free operation which makes navigation more convenient while playing games. These models also support voice commands from Alexa, Siri, Google Assistant, and Roku Voice.
LG's Intelligent Editing feature will also allow you to customize the home dashboard as you like. So, you can keep your favorite apps first and effortlessly gain access to them.
Additional Features
Other than the ones I have mentioned above, I found some features to be quite useful for gamers. After confirming the previously stated criteria try to look for a built-in Chromecast if you want to play the games from your smartphone. And the owners of the iPhone or iPad should check if the model has Apple Airplay compatibility.
My 2 Top Picks for The Best Budget 4K TV For Gaming
Now that you have got a peek at my most favorite models let's dive into further details about their features and gaming performance.
1.
Hisense 43-Inch Class R6090G Roku 4K UHD Smart TV
Hisense always manufacturers smart TVs keeping the user's affordability in mind. But they don't compromise with the quality in the process. This model has every perk of a premium TV you can get at this price point. With UHD resolution they've met the standard HDR format with Dolby Vision HDR and HDR10.
Design
The bezel-less design of the screen brings an exceptionally stunning look. This also increases the viewable display as there is no edge.
Connectivity
It comes with 3 HDMI 2.0 input ports with HDCP 2.2 which means connecting the latest gaming consoles won't be a problem. But they could have made it future-proof by giving HDMI 2.1 ports. Though it has a motion rate of 120, it doesn't support 120Hz input from externally connected devices. This is why if you're the owner of Xbox Series X, this model is not for you.
Other Features
The audio quality from the DTS Studio Sound is also remarkable. Overall, it's the best gaming 4K TV under budget if you lack space and budget. User satisfaction for this model is extremely high for brilliant picture and sound performance.
Things I like
Most of the low-cost UHD TVs come with poor audio quality but thanks to Hisense they have incorporated DTS Studio Sound and the sound quality is impressive. The HDR10 is there to give you richer colors and better details than the SDR. Also, I loved the higher refresh rate of 60fps that is adequate for gamers who want more fluidity and smoothness in gameplay.
Things I don't like
The Bluetooth connection only supports Roku speakers. So, you won't be able to pair your third-party wireless headphones.
2. 
LG 43UN7000PUB  UHD 70 Series 43″ 4K Smart TV
LG is one of the pioneer brands to launch 4K TV. On a tight budget, you might miss most of their bestselling models, but not this one. Let's have a sneak peek at some of its main features.
IPS Panel
While the other affordable 4K TV for gaming shows poor picture performance when viewed from a slightly angled position, this one stands out. It supports a wide viewing angle with an In-Plane Switching (IPS) display. So, no matter from which position you are seeing the screen, you'll always be able to enjoy stunning clarity and color.
Intelligent Editing
With this feature, you can customize the home dashboard according to your preference. Therefore, you don't have to go through excess steps just to gain access to your favorite games. Simply just keep them at the top. Also, the webOS brought further convenience because you can get an easy preview from the launcher without even entering them.
Picture Processing
The high-quality quad-core processor is incorporated to paint pictures, colors, and actions in the finest possible light from the source to the screen. It has a refresh rate of 60Hz. While playing games this brings high responsiveness and more fluidity. Furthermore, it brings more clarity by reducing noise. Also, non-UHD contents are upscaled to near UHD resolution.
Overall, it has a spectacular picture quality. Most of the affordable 4K TV for gaming comes with a downside of poor audio quality. But thanks to its Ultra Surround technology, the sound effects seem so real that it can enhance your gaming experience like never before.
Things I like
I liked how they thought about the wide-angle viewing and introduced the IPS display panel that can't be viewed from any position without losing color or clarity. Compatibility with Google Home and Amazon Alexa brings more convenience as you can operate everything using voice command. LG's webOS also got appreciated by the users for having a straightforward user interface.
Things I don't like
For casting Apple gears they've Apple Airplay and Apple HomeKit but there is no Chromecast to support the Android devices. But if your smartphone is compatible and has a Smart Casting feature you can still cast by enabling that feature. Just make sure the TV and the phone are connected to the same Wi-Fi network. Otherwise, it won't be able to find the TV.
Frequently Asked Questions:
Is a 4K TV worth it for gaming?
The latest 4K technology not just offers a stunning visual experience to the gamers but also lowers the refresh rate. As a result, the responsiveness increases in a noticeable way. On top of that, some of them have gaming engines to ensure smoother gameplay.
Can I trust these brands manufacturing cheap 4K TVs?
Well, not all of them. However, with the advancing technology UHD technology is becoming more available, so is the price of them. Especially, TCL, VIZIO, Hisense are some of the best brands for manufacturing affordable 4K TV. You can trust them with quality.
Will I be able to play PS5 games on these low-price 4K gaming TVs?
As most of the 4K TVs have a refresh rate of 60fps or more along with the HDMI 2.0 input port, you will be able to connect a PS5 gaming console and play with them.
Of course, you won't get the cutting edge display like the OLED or QLED ones from the high-end models. But with some research, you can surely bag yourself an affordable model with all the premium perks that are needed for smooth gameplay.
While Hisense has the most spectacular picture and sound quality which makes it the best cheap 4K TV for gaming. LG has got an IPS panel for wide viewing. TCL won the heart of users with rich colors, better contrast, and powerful audio. To be futureproofed, the VIZIO model introduces a V-gaming engine and the latest HDMI 2.1 connectivity. But if you just want a stable Wi-Fi connection grab Caixun it has 2T2R antenna technology to withstand transmission error and improve the speed.