When it comes to televisions, UHD or 4k resolution has become the first choice. But the trend for 4k monitors hasn't gained that momentum yet. Right this moment, lots of people wonder, is 4k monitors worth it?
The answer is yes, 4k or 2160p monitors are worth every penny. But that doesn't apply to everyone. Because budget and requirements play a big role in determining the right kind of monitor.
In this article, I am going to explain the parameters which make 4k monitors suitable for certain cases. So, don't skip a part, and let's get started.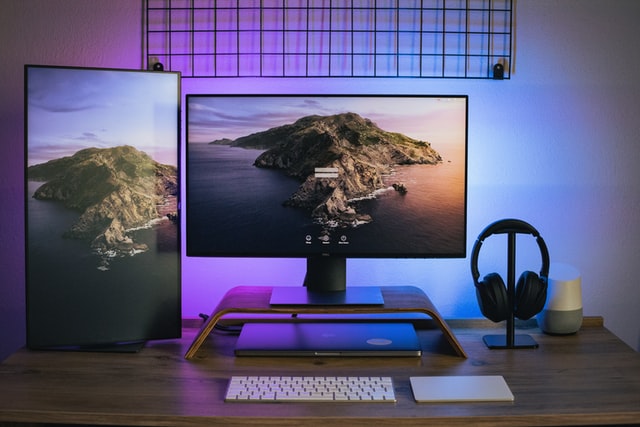 Do You Need A 4k Monitor to See 4k?
Are wondering whether 4k contents are playable in 2k or 1080p monitors? The answer is yes, you can play in a lower resolution display.
But the content will get downsampled to match the output resolution. For a true 4k experience, you will need a 4k monitor or TV.
The following part of the article will give you an overview of 4k monitors' worth in different use cases.
Are 4k Monitors Worth It?
I have already given you a positive answer to the question in the introduction. But the answer is incomplete without some explanation.
Here, I have tried to show the requirements of different users.
From the discussion, you will know whether buying a 4k monitor will be a wise decision for you or not.
Are 4k Monitors Worth It for General Computer Use?
Among the readers of this blog, I know that lots of them are general computer users.
Answering this question will address most of the potential 4k monitor buyers. And, the answer is yes.
Buying a 4k monitor mostly for watching your favorite shows, movies, and playing games are sometimes well worth the investment.
If you want to upgrade your FHD monitor, don't go for the 2k or 1440p models. Because 4k monitors cost even less.
Also, browsing the internet, and performing some casual tasks, the higher refresh rate of these monitors will make the work enjoyable.
Besides the monitor, you don't have to have a high-end CPU unless you are a heavy gamer.
So, you can dare to buy a 4k monitor within your budget range. Only buy a good audio system to complete a home-theater-level entertainment setup.
Are 4k Monitors Worth It for Gaming?
As a serious gamer, I don't have to tell you the importance of having a high-resolution display.
But TVs have some flaws that are not present in the monitors.
You will not only get a higher refresh rate but also faster response time and low input lag in 4k monitors.
Here, I have to warn you about the price. A 34" 4k 180hz gaming monitor can cost you well over 1000 dollars.
At the same time, you need to consider the cost of buying a high-end PC or console. And, don't forget to get GTX 1080 TI or a higher-priced GPU.
Is A 4k Monitor Worth It for Office Work?
Usually, professionals without the requirement of editing videos or photos don't need a 4k monitor.
From the specs and features, you will know that the UHD monitors are the best for maintaining color accuracy.
But it won't hurt you to future-proof the PC setup if you have the money and willingness.
Is 4k Monitor Worth It for Programming?
The above questions regarding 4k monitors' worth have positive answers for several reasons. And, I have explained them all.
But as a programmer, a 4k monitor won't add any value to your work. It will give you the same output as a 1080p model.
Besides better image quality, there is no other advantage particularly applicable to programmers.
If you are a full-time programmer, and a part-time gamer, then the equations won't be the same.
In this case, buying a 4k monitor for your PC will be worth the money.
Also Read: Do You Need 27 Inch or 32 Inch Monitor?
Finally, Are 4k Monitors Worth the Money: Should I Buy One?
The time to take a final decision on 4k monitors has come. Here, I want to tell you the advantages and disadvantages of UHD monitors.
Here, the downsides will help you more. Those who are willing to buy one can find out any major issues that can hamper their work.
And, it will also help by preparing you for the worst-case scenarios. Let me explain the disadvantages first. 
The main cons of considering a 4k monitor at your home or office are higher prices and more power consumption.
Without a powerful GPU, games won't run smoothly on your 4k monitor. Also, you need to have the latest version of the Windows operating system to get it right.
For the best experience with a UHD monitor is by use it with an Apple PC. The high-end setup is also required to stream contents in 4k resolution.
So, keep those in mind while buying one. Now, let's talk about the advantages in short.
The main benefit of using a 4k monitor is watching content a lot sharper and clearer compared to the old Full HD monitor.
As users work sitting close to the monitor, the higher pixel density gives them a better visual experience.
Those are the things that one should consider before buying an expensive 4k monitor.
Frequently Asked Questions
Is a 4k monitor worth it for PS5?
Yes, getting a 4k monitor is the best option for playing on a PS5. It is better than a 4k TV because of its low input lag and faster response time. Also, monitors are capable of producing colors more accurately.
Is a 4k monitor worth it for Xbox Series X?
According to the specs of Xbox Series X, you will have to buy a 4k 120Hz monitor to get the most out of it. If possible, getting an 8k 60Hz will be even better.
Are 4k monitors better for your eyes?
After lots of research and real-life testing, it has been proven that the damage to your eyes does not depend on the resolution of the display. So, getting 4k monitors is no better than getting 8k or 1080p monitors.
Do I need a 4K monitor for editing?
It is not a must to get a 4k monitor for creative editing tasks. However, they are good for color correction. Also, sitting in front of good monitors for a long time won't be much damaging as cheaper alternatives.
Conclusion
I have given my reasons and explanation. What do you think? Are 4k monitors worth it?
With more 4k movies, streaming options, and games, it is logical to get a 4k monitor despite the higher price tags.
If you have the money, I will highly recommend you to get one. Also, think about your work requirement, and make plans accordingly.
Related Posts: