Nowadays, 4K monitors have become the new standard especially for PC gaming, content creations, or watching numerous contents. However, many people are currently quite concerned about one particular rumor claiming that the 4K monitors might be bad for eyes. 
In reality, 4k monitors contain 4k resolutions means higher resolutions, and delivers better display clarity, which is better for eyes.
In this article, I will answer whether 4k monitors are better for the eyes and will explain my reasons behind the answer-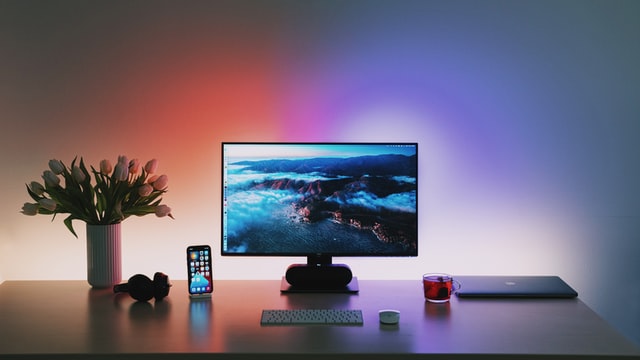 Is Higher Resolution Screen Bad for Eyes?
No, higher resolution means crystalline screen or display view, which is actually better for the eyes.
High resolution delivers a higher pixel density, which makes everything look much sharper whether it's texts, images, or videos.
With this kind of monitor, your eyes will not suffer from putting pressure on to watch the tiny detailed Crystals clearly on the screen.
Even various trusted research sources claim that the higher the screen resolution, the better it will be for your eyes. 
Besides the higher resolutions like 4K Monitor usually has Low Blue Light Technology on them, which keeps the eye focus harm-free. 
This type of screen even contains additional features such as the adaptive brightness feature that takes better care of the viewer's eyes.
Does 4K Hurt Eyes?
No. 4K means a higher quality resolution with a high pixel density display, and any 4k or high-resolution LCD monitor can show crisp and sharp contents without any flickering problems. 
That means with such resolution screening quality, your eyes will be in less danger.
However, if you turn the lights down low and turn your 4k monitor's brightness extremely high, sometimes you might feel eye fatigue and irritation. 
Does 4k Reduce Eye Fatigue?
Yes, since a high resolution means less pixelation which is better for the eyes. 
Reportedly 4k monitors have low blue light technology and even do not have flickering display issues.
Therefore, it will not put any extra pressure on your eyes which means fewer chances of experiencing eye fatigue or irritation.
However, if you are watching very tiny texts on a high-resolution monitor, it can still cause you eye strain. 
Also, if you are not maintaining a safe distance from the monitor or screen, you will feel certain irritation or fatigue after some time.
What About the Lower Resolution? 
Researches claim that lower resolutions might not cause any actual and direct damage to your eyes, but it is not good for a long period. 
When you are putting extra pressure on your eyes to see contents clearly on your screen or monitor due to the lower resolution, slowly but surely, it will start to irritate your eyes after a certain period. 
But the frequent flickering display, the high contrast between bright screen and dark surroundings of the Lower resolution screen can potentially cause eye irritation or fatigue.
What Type of Monitor Is Best for Eyes?
The best type of monitors for eyes are those that are easy on your eyes and do not make your eyes uncomfortable or irritated. 
The Harvard Medical School research claims that people experience less eye fatigue, irritation, or strain staring at curved monitors than flat monitors.
Also claims that the curved monitors have 4x less Blurred vision than flat monitors.
Since the curved monitors have less distortion, come with a wider view field and better viewing angles than flat monitors, which means one can view the whole content at once without tiring their eyes. 
Experts suggest trying OLED monitors, which have the potentiality to reduce eye fatigue.
Even the high color contrasts and per-pixel light-emitting dotes of the OLED monitors make staring at the monitor for a long period less tiring.
To choose the best type of 4k monitor that will not harm your eyes, have a look at the following recommendations-
Recommended Products: 
ASUS VP28UQG 28″ 4K Eye Care Monitor:
The ASUS VP28UQG monitor comes with 28 inches screen display and 3840×2160 resolution with a 16:9 aspect ratio. 
This 4k monitor is specially designed with flicker-free technology and created with reduced blue light emission to protect eyes from damage and fatigue. This TN panel LED monitor is one of the best monitors for elderly people. 
Even the 60 Hz refresh rate is sufficient enough for gaming. But for the competitive level of gaming, it will not be a good choice.
Dell UltraSharp U2720Q 27" 4K LED Backlit:
The Dell UltraSharp U2720Q is a good choice for multi-uses because it features HDR support, wide connectivity options, and an IPS panel with good viewing angles. This 27 inches LED monitor allows you to simultaneously open multiple windows and easily share your work with colleagues. 
Due to its higher 4k resolution picture quality, all texts and images look incredibly clear. Even while working, you can also enjoy some gaming time on the side since it comes with a good response time and low input lag. 
However, this 3840x 2160 resolution monitor does not feature VRR support or contains variable refresh rate technologies.
Philips 328E1CA 32″ 4K Curved Monitor:
The Phillips 328E1CA is a super colorful 4k monitor that does not only look good on your desk, but this 32 inches 4k monitor also features some thoughtful extras such as decent quality speakers and cable management.
Despite being priced economically low, this 4k monitor is built with high adjustment features to offer more space, crisp, and vivid full HD picture quality. It also contains flicker-free technologies and low blue mode, which is more comfortable and soothing for the eyes.
However, this 4k monitor is not suitable for gaming, lacks USB ports, and has lighter Gamma than expected.
Is Using A 4K TV As A Monitor Bad For Eyes?
Yes. Research claims that using a TV does not matter whether it is 4k or not as a monitor is bad for the eyes.
Reportedly, the biggest problem is the input lag quality difference between monitors and TVs. 
Some TVs do a lot of signal processing, and they are capable of adding 50ms up to 100ms delay to the signal before it appears on the viewing screen, which is a serious drawback on an interactive PC display. 
While working on a monitor, people naturally tend to sit closer to the screen. But when you use a TV as a monitor and sit closer like that, it can potentially cause eye fatigue.
Verdict 
I have already answered the most controversial question about the 4k monitors in today's article and also tried to explain the reasons behind my answer.
So, what do you think are 4k monitors better for your eyes or harmful?
Related Posts: