Having a 4K HDMI cable lying around a newly bought FHD TV, people often ask themselves, "can I use a 4K HDMI cable on a non 4K TV?"
The straightforward answer is yes; you can use a 4K compatible HDMI cable to connect a non 4K TV, monitor, or other devices.
But there is more to that answer. In this article, I have explained everything keeping every possible situation in mind. Also, read whether you should do it.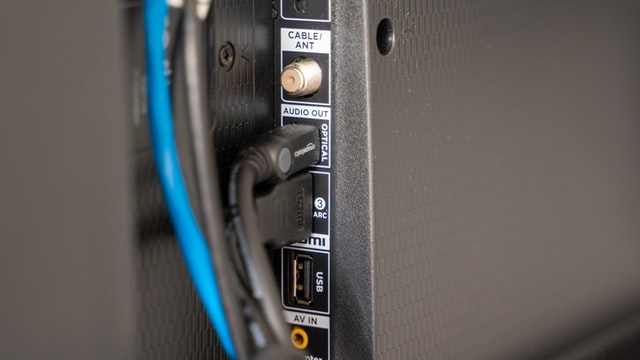 So, Can I Use A 4K HDMI Cable on A Non 4K TV?
You have already got the answer. Now, can you tell me the difference between a 4K and non-4K HDMI cable?
Besides bandwidth, there are no differences in the design or compatibility.
You can understand that HDMI cables for 4K displays are at the higher tier.  
Therefore, it works perfectly fine with all types of display resolutions (except 8K in some cases).
On the other hand, older versions of HDMI cables don't have the bandwidth capacity to transfer large packets containing 4K pictures.
Some people don't know that the newer versions of HDMI cables are backward compatible. That is why you won't face any problem seeing 1440p, 1080p, or 720p resolution with a 1.4 or more recent HDMI technology.
A Future-Proof Choice
If you already have an FHD display and are about to buy an HDMI cable, you have two options.
Either buy an older version (HDMI 1.3), or the latest one (HDMI 2.1).
Both are compatible with 1080p picture quality. But the wisest decision will be to go for the newly released technology.
As a result, you will have a future-proof cable. Getting a display with 4K capabilities later won't require you to buy a new cable. It can deliver or transfer data at 48 Gigabytes per second.
What Are 4K And Non-4K HDMI Cables?
Among lots of different cable versions, you must be wondering, which one is 4K compatible and which one is not.
HDMI 1.3 is regarded as non 4K HDMI cables because it doesn't have enough bandwidth.
Its successor HDMI 1.4 has the same bandwidth but it is capable of transferring 4K video at 30 frames per second.
HDMI 2.0, 2.0a, 2.0b, and 2.1 are released with bandwidth capacities of more than 18 Gigs per second which is enough for 4K contents.
Version 2.0 and its siblings are capable of displaying 4K HDR content at up to 60 frames per second.
Lastly, 120 Hz refresh rate and 4K HDR quality can only be supported by an HDMI 2.1 cable.
Is a 4K HDMI cable different from the HDMI cable we use for 1080p?
Yes, there are some differences. The above discussion shows those variances in short. Here, let me give you an overview.
| | | | | |
| --- | --- | --- | --- | --- |
|   | HDMI 1.3 | HDMI 1.4, 1.4a, 1.4b | HDMI 2.0, 2.0a, 2.0b | HDMI 2.1 |
| 4K Support | No | Yes | Yes | Yes |
| 8K Support | No | No | No | Yes |
| Bandwidth | 10.2 Gbit/s | 10.2 Gbit/s | 18 Gbit/s |   |
| Max. Frame Rate | 1080p @ 60 Hz | 4K @ 30 Hz | 4K @ 60 Hz | 4K @ 120 Hz, or 8K @ 60 Hz |
| HDR Support | No | No | Yes (Except 2.0) | Yes |
| Hybrid Log Gamma | No | No | Yes (Only 2.0b) | Yes |
| Price | Check Price | Check Price | Check Price | Check Price |
To summarize, there are only 2 types of HDMI cables; standard and high speed.
High-speed cables (18 Gbit/s or higher) are a must for getting the true UHD experience in 4K displays. And, the standard cables (10.2 Gbit/s) are good for other non 4K TVs.
More Benefits of Having A 4K HDMI Cable
Buying the right 4k HDMI cable will give you lots of advantages. Let's see what those are.
You can watch HDR content without sacrificing quality.
With version 2.1, you are secured for even 8K contents at 60 Hz. And, 4K videos at 120 Hz.
These cables support all Dynamic HDR formats including HDR10+, Dolby Vision, and Advanced HDR.
2.0 and its siblings are capable of showing up to 4K resolution at 60 Hz.
They can cover longer distances without losing any data.
You can experience 2 video streams (Dual View), and 4 audio streams simultaneously.
It features Audio Return Channel or ARC, and Ethernet capabilities.
Should I Feel Concerned?
With all those discussions and benefits of having the latest HDMI technology, you may feel the urgency to buy one.
The problem is that these cables don't come cheap. Their prices will eventually go down but not within a year or two.
If you already have a 4K HDMI cable, you will have no worries. But those who are planning to buy one for their non 4K TV have two options to choose from.
Before making up your mind, you have to consider your situation or use case.
For only watching TV and nothing more such as games, or high-quality movies, one doesn't need a 4K HDMI cable.
Here, spending more will give you nothing except mental satisfaction or using the latest tech in the market.
On the other hand, watching HDR content, or playing games at a 60 Hz refresh rate or higher requires an expensive cable.
Some people plan to use their TV as monitors. This is where the premium HDMI cables are required.
Let me put an end by saying another situation. Some TV owners want to keep the cables hidden under the wall.
For them, using a normal HDMI cable won't be suitable according to the standards.
In these particular cases, you must use a 4K HDMI cable even for a non 4K TV or monitor.
Frequently Asked Questions (FAQs)
Can a 4k HDMI cable work with 1080p?
Any 4k HDMI cable from version 1.3 to 2.1 can work with any 1080p TV or monitor without having any trouble.
Can you use 8k HDMI on 4k tv?
Yes, 8k HDMI cable works fine on 4K devices.
Are all HDMI cables 4k?
Not all the HDMI cables are 4k. If the version is at least 1.4 or above, only then the cable supports 4k connection.
Can a 4k HDMI cable work with 720p?
Yes, you can use 4k HDMI cable for you 720p monitor or TV.
Will standard HDMI cable work with 4k?
The answer is yes. Standard HDMI cables work with any 4K TV or monitor just fine.
Final Thought
4K compatible HDMI cables are not only for 4K images but the full experience. It includes high bandwidth for smooth motion, HDR, higher frame rate, and assurance of color accuracy.
You have got the answer to the question; can I use a 4K HDMI cable on a non 4K TV?
Get an HDMI 2.1 cable for the best quality regardless of resolution and other features.
Related Posts: