In an era of the internet where technology has made us drift apart, television plays its part by bringing us together with all its adhesive perks. This big screen has the ability to gather all your family members in the living room instead of scrolling down their phones alone in separate rooms.
However, television had their own share of evolution from the day they were first invented as a rather heavy box to thin rectangular devices able to attach to your guest room wall.
From providing black and white screenplay to crisp, crystal clear-like pictures we see today, TVs have been more appreciated when they come in bigger yet lighter sizes. With that being said, this article will clear all the dilemmas between a 40 inch and a 43 inch TV.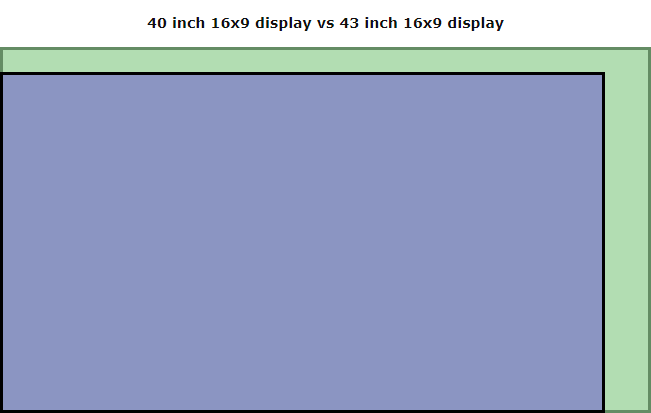 Why Should We Compare?
Do that extra 3 inches of width really matter? The concern about television is the bigger the better. Since you want more of your family and friends to enjoy, with a smaller screen, some might slip out of the front zone struggling for a better view.
As a gracious host, you definitely would not want that. This is where a bigger screen plays its part and makes sure no one is getting deprived of the best scenes from one favorite movie in the house.
But that extra little 3-inches cost you more that you may not wish to spend. So, between 40 and 43 inch 4k tv, which one is better and is your money worth it? Let's know that n details below.
Detailed Comparison Between 40 Vs 43 Inch 4k TVs
Besides the specs, let's take a look at this display chart first:
| | | |
| --- | --- | --- |
| Comparison | 40 inch | 43 inch |
| Height | ~19 inch | ~21 inch |
| Width | ~34 inch | ~37 inch |
| Area | 13.47% smaller | 15.56% larger |
| Viewing distance | ~3 feet | ~4 feet |
| Pixel Density | ~110 PPI | ~102 PPI |
Display
Most of the display in a 40-inch smart television is HD quality and LED. The contrary of the fact whether it is a 40 inch or 43-inch smart tv, it has an advanced media player that provides super easy access to all the digital videos, photos, and music. Which located on a certain network while being attached with your storage device or home computer.
Dimension
As mentioned above, the size does not create any difference in the streaming, browsing, or picture quality. The pixel distribution throughout the screen stays the same, offering you the same sort of color contrast available both in 40 and 43 inches.
But dimension plays a role in how immersive the television is. In that case, the bigger the better.
Screen type
The most obvious dissimilarity is that the screen type is much bigger and spread through in 43-inch tv which gives a better area coverage. Despite the fact of being bigger, the resolution however stays the same without the pictures being cracked or stretched.
Price
Naturally, one will serve with excellent picture quality no matter which tv between these two you use. But, 43 inches is not entirely necessary if you are happy with the area coverage.
Since, 40-inch smart TVs will save you a bit than buying 43 inches, which will cost some extra.
Which One to Choose, Finally?
So, the pros and cons have already been laid above. It is up to you and your requirement to choose one between the two. But one good tip to keep in mind is to respect your budget.
Of course one doesn't like to spend over something that they don't really need. Likewise, the 43 inch TV is not really needed by everyone who is looking for a LED tv. In the end, what truly matters is the picture quality and streaming capacity.
On the other hand, if you are a very social person who is often accompanied by several guests then can go for 43 inches. Of course, only if you are able to afford the expenses. Smart TV expenses often add up with the internet bill.
So, you might want to consider every aspect and not just comfort while settling for 43 inch 4K. In the end, there is not much at stake while buying 40-inch 4k ones.
Recommended 40 inch 4K TVs
Vizio V405-G9 40-inch 4K 2160p 120hz LED Tv
This television can run at a 120 Hz refresh rate. This means you will have a smoother experience comparing 60 Hz televisions. The full array LED display makes sure there is some level of intensity across the display. It comes with 3 HDMI ports which will make it convenient to use with multiple devices.
Recommended 43 inches 4K TVs
Samsung Crystal UHD TU-8000 Series
This Samsung television has taken its reputation to a whole new level. Its ultra-fast processor transfers everything to 4K seamlessly. You can use Alexa or Bixby as your voice assistant. The Tizen operating system has taken the ease of use to next level.
TCL 43-inch 4K UHD Smart LED TV
The intuitive software is the best thing about this TCL television. With its excellent HDR, you will experience the best color, contrast, and a high level of detail. The directly lit led produces excellent colors that look just like real life.
LG LED Smart TV 43″ Slim Real 4k UHD TV
It is powered by a quad-core processor that makes sure your experience on this TV is seamless. This tv works with both google assistant and Alexa. You will have everything at your fingertip thanks to WebOS and LG ThinQ AI. Moreover, it can run at 120 Hz when required.
However, you can check some more best 43 inch 4k TVs if you want more buying options.
Frequently Asked Questions (FAQs):
Is 4K noticeable on a 43-inch TV?
Yes, 4K has a noticeable effect on the picture quality of 43 inch TV. Especially when compared against 1080p resolution.
How much bigger is a 43 TV than a 40?
The 43-inch television has approximately 15% more screen area than the 40-inch television.
Is 43-inch too small for 4K?
No, 43 inches is just about right when it comes to 4k resolution. You will not find television smaller than 40 inches in 4k resolution.
Which resolution is best for 43-inch TV?
When it comes to resolution, the larger the better. On a 43 inch tv, 4k would be better than 1080p.
What size room do I need for a 40 inch TV?
40-inch television fits almost all kinds of small to medium rooms.
Does TV size affect picture quality?
Having low resolution on a large screen will result in low-quality pictures. In short, yes, TV size affects picture quality.
The Verdict 
The marketplace is booming with all sorts of electronic devices like smart TVs nowadays. It is very easy to get lost in shining outward appearance only to be disappointed later. Sufficient knowledge and inquiry are needed for the best purchase according to your budget. 
When it comes to 4k televisions, 40 inches or 43 inches both are amazing choices yet the final pick is yours to decide.
Related Posts: