The technology of TVs never stopped advancing toward the stars. For example, flat-screen TVs first became the norm beating those bulky box-like televisions. Then that was not enough; so manufacturers started making
TV with better resolution. As of today, 4K resolution is becoming the norm while display sizes are getting bigger and bigger.
As there are plenty of choices, it is very easy to get confused. Throughout this article, I'll try to solve any confusion you have had so far regarding 65 vs 75 inch 4k TVs.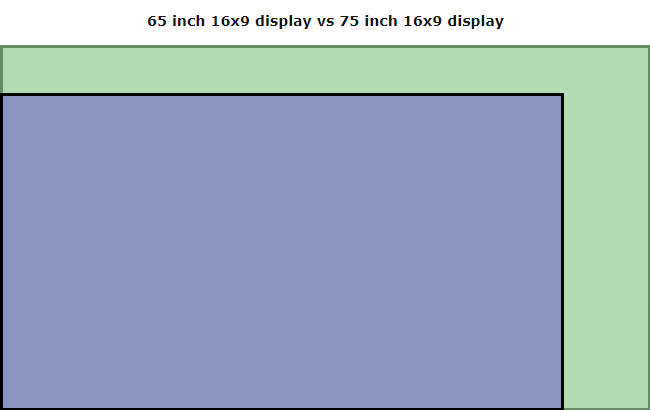 65 Vs 75 Inch 4k TV Pricing
In overall consideration, there is a substantial overlap between the prices of both televisions. The best quality 65 inch television will cost more than a subpar 75 inch ones. For example, this LG product is considered one the best 65-inch 4k tv but it costs more than many 75 inch TVs.
So, don't get overjoyed if you find a cheap one. It is better to take a deep look into hardware, software, and technology used before you make a buying decision.
Let's now go through the price range. For a decent 75 inch 4k television you will have to spend more than 1500 dollars. On the other hand, if you want the best experience you will have to cross the 2000 dollar mark.
When it comes to 65 inches, you will find more than decent models for a thousand dollars. They can go as low as 500+ dollars. The best ones will cost you more than 1200 dollars. 
Comparison Between 65 Vs 75 Inch 4k TVs
Besides the specs, let's take a look at this display chart
| | | |
| --- | --- | --- |
| Comparison | 65 inch | 75 inch |
| Height | ~32 inch | ~37 inch |
| Width | ~57 inch | ~66 inch |
| Area | 24.9% smaller | 33% larger |
| Viewing distance | ~5 feet | ~7 feet |
| Pixel Density | ~68 PPI | ~59 PPI |
Pixel Density
As 4K resolution comes with fixed pixels, due to the smaller screen size you will get to enjoy better density.
When it comes to picture quality. Obviously, 4K is going to make it look pictures sharp and crystal clear. But, if you count the number of pixels per inch, then 65 inch television will dominate.
Although on paper, 75 inch may lack pixel density. But 4K comes with a huge set of pixels. You probably won't find the difference if you are not specifically looking for it. On top of that, 4K will make the content look clear, crispy, and very life-like.
Distance and Field of view
Due to the difference in size, both televisions have different ideal sitting distances and fields of view. Obviously bigger television will have a larger field of view. And for this reason, the ideal sitting distance varies.
As 75 inch TV is bigger so general sitting recommendation varies from 1.5 meters to 3 meters. Different TV displays are made with different technology, for these reasons the ideal distance varies. On the other hand, 65 inch television will have to recommend a sitting distance of 1 meter to 2.5 meters.
If you compare both distances, bigger TV will hand you substantial freedom to arrange sitting couches when enjoying content with friends or family.
Suited Environment
When it comes to televisions, bigger is always better. Big televisions have taken a step in the right direction for immersion. TVs with 75 inch screens can easily immerse the viewers right into the content. They are excellent if you want a home theater experience. In a dark room, these large screens perform exceptionally better. So, it would be the right choice if you are looking into making a home cinema.
65-inch television is better suited for medium households. If you like a compact setup, then this TV will fit right in. So, you will be saving space. Although both of these television comes with large display, this one-sided with compact design. 
Another this is that 75-inch television has a better viewing angle. You can easily set up a sitting arrangement without any problem. Any sitting arrangement you choose everyone will have a great field of view. It will make enjoying content with friends and family really fun.
65 Or 75 inch TVs: Are they Worth it?
Given that both 65 inch and 75-inch televisions are expensive, are they really worth it? To be honest, there is no right answer. It depends on you. While 65 could be set up in a living room, 75 inches are recommended for home theaters.
So, it depends on what kind of entertainment you value. For cinematics, 75 inch would be the best choice. On the other hand, those to want to enjoy a big TV in the living room should go for 65 inches. It always depends if you are getting what you want on the television.
Some Of The Best 65 inch 4K TVs
1. SAMSUNG 65-Inch Class Crystal UHD AU8000
An extra crystal layer on display helps this TV to produce more than a million colors. You can access app and streaming services thanks to its voice assistants. The installed HDR technology will produce true-to-life color.
2. LG UHD TV 65″ Real 4K LED Display
The WebOS operating system and LG thinQ AI has taken the ease of use to the next level. It can run 4k content at a 120 Hz refresh rate, which is ideal for gaming or watching sports.
3. Sony X90J 65 Inch 4K Ultra HD Smart Google TV
This Sony tv uses the revolutionary cognitive processor XR. This processor delivers high brightness, natural colors, and pure blacks just as human perceives them. Its precisely controlled backlight brings each frame to life.
Some Of The Best 75 inch 4K TVs
1. SAMSUNG 75-inch Class QLED Q80T Series
This Samsung QLED television has controlled backlights for richer blacks and white. You won't see any glaring when seeing the TV from a wide-angle thanks to its anti-glare coating. The most interesting part is that its sound can track the action on the screen and follow it accordingly.
2. TCL 75-inch 5-Series 4K UHD Dolby Vision HDR Smart TV
It comes with QLED technology that delivers wider color volume and better brightness. The built-in game mode will optimize the settings for lot latency and smooth action.
3. Sony X80J 75 Inch TV: 4K Ultra HD
Sony X80J comes with google tv as the operating system. You will get to enjoy excellent compatibility with apps. The Triluminos Pro reproduces most life color. This TV is also very good at upscaling HD content to 4K.
Frequently Asked Questions (FAQs)
Is there a big difference between 65 and 75 inch TV?
75-inch television needs a slightly bigger room setup than 65 inches. They offer a more immersive experience than their counterpart.
How far should you sit from a 75 inch TV?
It depends on the manufacturers. Different manufacturers recommend different sitting distances. You should look into the instruction manual for accurate info.
Is 65 inch TV too big for the living room?
No, 65 inch TV is not too big for a living room.
How far should you sit from a 65 inch TV?
You should look into the instruction manual because different manufacturers recommend different sitting distances.
Is it worth buying a 75 inch TV?
Yes, they are worth in for their immersive experience.
Why is 75 inch TV more expensive?
75 inch TV is considered a luxury item. They also cost more to manufacture and ship.
Is 4K enough for 65 inch TV?
Yes, 4K resolution is enough for a 65 inch TV.
The Verdict 
Although the difference between the two television is merely 10 inches when it comes to 65 vs 75 inch 4k tv. But, that serves extensive distinction in their entertainment value. One is good enough for home theater another fits right in any room.
Besides the budget difference, they offer different entertainment values. And, what you need to figure out is if they satisfy yours. You probably won't need a bigger screen if you get one of these two.
Related Posts: